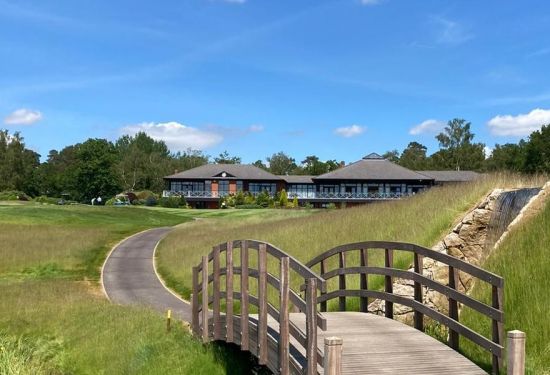 Golf Buggy Bridge at Bearwood Lakes Golf Club - Ref 4809
Bearwood Lakes Golf Club approached CTS Bridges to provide an ornamental Golf Buggy Bridge that would enhance the beautifully landscaped golf course that is ranked as one of the 10 most exclusive golf clubs in the UK (Golf Monthly).
The 8m x 2m bridge is designed to take golf buggies and golfers from the club house at the excusive members club onto the course.
As the course is set in the original grounds of Windsor Great Park with deer and wildlife roaming around, a timber style bridge was preferred to be in keeping with the area. However as the client required a 500mm camber on the bridge, a steel beam was utilised to provide this which was then fitted with a hardwood timber fascia to give the appearance of an all timber construction.
Durable Ekki hardwood was used for the parapet and deck. The deck has CTS's Hi-Grip Excel non slip inserts to provide a safe walking surface.
Published: Thursday, 2nd September 2021 at 11:05am